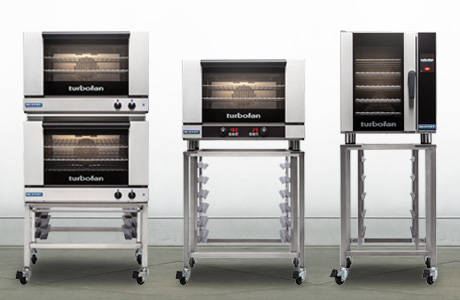 Turbofan 20 and 30 series control panel expansion
03/29/2016
Highlights
The Turbofan 20 and 30 Series ovens now feature a digital display control panel, knob driven time and temperature controls providing full electronic precision for accuracy. The control knobs are central return, which also feature the industry-leading 3/4" displays for both time and temperature making them easy to read.
Ease of use has also been a major focus with the Turbofan 20 and 30 series, with the choice of control interface extended even further for selected models in the 20 and 30 series. Here the introduction of an intuitive touch panel provides quick access to cooking control and, with manual; digital and this new touch screen option, kitchens now have even greater choice.

Manual control
Our easy to use, simple and efficient manual controls
access high performance power with a mechanical thermostat and a 60 minute timer with time up alarm.

Digital control

Precision digital controls offer you the following features:

Multi-stage – 3 stage cooking and baking with stage end alarms
Electronic time and temperature – Knob driven convenience with electronic accuracy
Manual mode – Simple selection of time and temperature control
Product programs – 20 cooking/baking profiles can be stored in the program mode
Digital display – Easy view settings with electronic accuracy
Action keys – Quick control of oven functions/modes
Moisture control – Steam injection mode (5 levels) and manual injection (30D series)
Core temp control – Core temperature cooking (optional Core Probe Kit E32 & E33 models only)

The One Touch
Choosing a touch screen model means making the most of intuitive functionality and pre-programming usability. Here, the icon-driven menu makes for uncomplicated training of staff, consistent quality a touch of the screen away.

The touch screen features manual and pre-programmed operating modes, individual shelf control, multi-stage cooking and optional core temperature probe.

The One Touch control panel offers users the following benefits:

Multi-step with multi-level programming
Unskilled labour and user friendly
Icon driven and simple to use aesthetic oven
Customisation of programmable modes


20 Series

30 Series