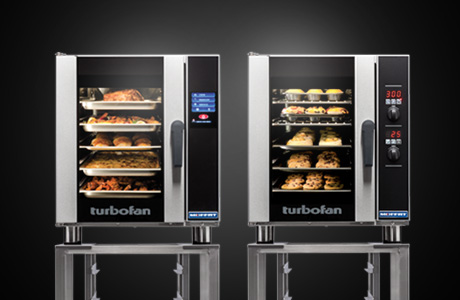 Turbofan Bolt – with great power comes great irresistibility
03/24/2016
Highlights
Introducing the two Turbofan Bolt E33 convection ovens.
They're versatile,
powerful and
cost-effective with exceptional productivity, incredibly valuable to the modern commercial kitchen.
E33T5
and
E33D5
convection
ovens sit on a compact 24 inches wide footprint and deliver a 5 x half size sheet pan capacity with
3 1/3"
tray spacing. With this size and scope energy savings are maximized and food loss minimized.
A variety of features are offered by
Turbofan Bolt E33 convection ovens
including:
2 SPEED BI-DIRECTIONAL REVERSING FAN - The high performance bi-directional reversing fan system has been enhanced for the new E33 models with the introduction of two fan speeds providing you with greater control. High speed brings the grunt for maximum heat penetration. For more delicate products, low speed supplies the grace. Bake, roast, cook or regenerate – it doesn't matter.
MOISTURE INJECTION - The five-level moisture injection mode of the Turbofan E33 convection ovens deliver this capability time and time again, and with no drainage required installation is easy. Product loss from shrinkage is limited and so is unnecessary stress – you can rely on succulent results.
CORE TEMPERATURE PROBE - With the optional Core Temperature Probe fast, concise readings can be taken and faultless outcomes expected. It's this peace of mind that can make such a difference when you've got more things to do than hours in the day.
USB PORT - Find the future with the USB - compatible one touch model – the perfect high-tech solution for menu consistency. With uploading and downloading of product menu programs, you can easily keep multiple units up to date with menu changes.
CONSTRUCTION - A full stainless steel exterior is standard on the Turbofan E33 convection ovens, as is the five-level moisture injection mode which carefully regulates moisture control when required. The new pendulum slam shut latching door handle ensures ease of use during busy periods.