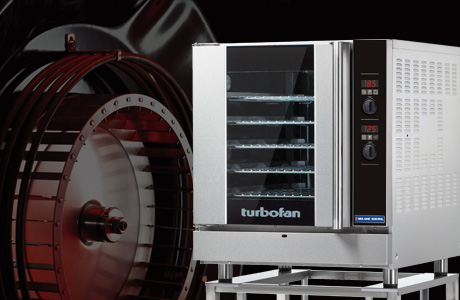 Turbofan boosts performance in the Convection Oven Range
Highlights
For years Amercians have depended on Turbofan's well renowned range of Turbofan Convection Ovens to perform the toughest cooking tasks in the kitchen. At Turbofan, we've listened to our customers and built on this feedback to offer even more features in the E33D5, E32D5 and G32D5, now contributing even more cooking modes, redefining perfection in the bi-directional fan system, adding more value with a new core temperature probe and new additions to the programs settings.



Two Speed Bi-Directional Fan System
Today's new and improved versions of
E33D5
,
E32D5
and
G32D5
have not one but
two, two speed bi-directional fans
providing you with greater control over your cooking environment
. The higher speeds in the oven chamber bring the grunt for maximum heat penetration and for more delicate products, low speed supplies the grace. The new two speed bi-directional fan has been designed to provide greater performance in baking applications where product uniformity in finish and quality is essential.
Bake, roast, cook or regenerate – it doesn't matter, Turbofan Convection Ovens has you covered.
The Five Levels of Moisture Injection Mode
The
E32D5
and
G32D5
range models represent the ultimate in convection ovens and have always featured water injection in manual and preset modes - perfect for enhancing the quality and tenderness of roasted meat products and for building crust on breads. Turbofan has now taken this impressive commodity one step further
– the
E32D5
and
G32D5
models now offers 5 levels of moisture injection into the oven chamber. With carefully regulated moisture control even the most difficult of dishes can be kept from drying out. The five-level moisture injection mode offers a steam oven cooking result time and again.
New Core Temperature Probe
Tired of time-based recipes? Modern diners constantly demand more for a lower price, which is why we introduced an optional core temperature probe in the
E32D5
and
G32D5
. Using the core temperature probe in cooking allows concise readings to be taken in the core of the product, to adjust the time and temperature of cooking. When you have more things to do in the day functions that deliver faultless outcomes offer the peace of mind that
really
make the difference.
20 Programmable Modes with Three Stage Cooking
The 20 program mode is ideal for your everyday 'on the go' restaurant or food service industries considering kitchen staff can simply
preset cooking times and modes for up to 20 of your own menu items
so the team can get on with their duties in their own stations until the timer is done.
New & Improved Convection Oven Range
E32D5 Series
G32D5 Series
E33D5 Series